on Thu Nov 22, 2018 8:31 pm
I have rebuilt my zippo hand warmers as described in the videos and changed out the catalysts.
I have tried every way of lighting them and it's always hit or miss.
For every success, it usually is preceded by a lengthy process of trying different methods of lighting.

For the life of me, it is never as easy as shown on the multitude of online videos including Mountain Parameters.

I would like to know if I am the only klutz in regards to this.
on Thu Nov 22, 2018 10:58 pm
A few weeks ago another user reported the same issues with a Zippo. We did a bit of back and forth. He did mention he probably injured the catalyst when getting it into the head, and the spring was too close to the reservoir. This is the last thing he said:

alan c
Sat, Nov 17, 1:21 PM (5 days ago)
to jmkellas, steveb

Hi,
You could try setting up a mailing list John for people to converse, not ideal but could be something.

I managed to get a decent amount of improvement with my Zippo. I pulled all the felt I packed it with and repacked it but being much more cautious about how the pieces laid in and not over packing it. I made sure the felt didn't come all the way up to the top of the neck, its about an eight inch from the top. I then repacked the spring. I used less then half of a catalyst pad. When I filled it I overfilled it a bit and had to let it sit upside down for about 10 minutes. It ran much warmer and longer, but still not as hot as the butterfly. I am going to try packing a little more of the catalyst in and see how it goes.

I think it all might have a bit to do with, how many of these have you put together John? I have a strong feeling your experience has a bit to do with it.
Alan
I think I'll need to send a note to both Alan and Steve and ask them to get in here and see if they have had any luck.
on Fri Nov 23, 2018 4:08 pm
How are you packing your hand warmer I packed mine the width of the handwarmers and then cut the strips to the length of it and then stuck it in and as you say I took it all the way up to the top and left about a quarter from the very top so if you could actually vampiric the fumes could actually accumulate around the spring more I figured if I put it all away to the top it wouldn't work as well so I think it might have to do on which way are you'packing it into the device as a l did I cut mine into strips to the length and width of the hand warmer and put it in each strip and laid it down nicely and snuggly I could be talking crap here but it worked for me and it was really really good no problems The heat was unbelievable and it lasted almost 24 hours and there was a large Johnny G.I. and warmer
on Fri Nov 23, 2018 4:24 pm
Hi Eamon,
Thanks for the input. Obviously you're referring to packing Carbon Felt into the reservoir. That's precisely the way to do it. Once a user realizes that a space is required for the fumes to pass through and mix with oxygen, half the battle is won. The other common mistakes I've heard about are:
- Getting the platinum catalyst contaminated with liquid fuel by either overfilling the reservoir, or letting the spring sag and touch the packing material in the reservoir.
- Packing the head or the spring too dense with the catalyst material.
- Trying to light the handwarmer when the body is so cold the liquid fuel is not evaporating and making fumes.
When troubleshooting problems with a handwarmer, this image should always be in your mind, with the thought as to which side of this triangle has interrupted the reaction, and thus caused the handwarmer to shit the bed: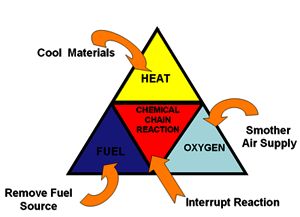 It's probably worth pointing out that all of these topics and more are covered in the
FAQ (<-- click for link)
on our website.
on Fri Nov 23, 2018 4:35 pm
Great joe and the warning sign is excellent you know before I light my hand warmer I hold it in my hands for at least about 20 minutes at least get the metal warmed up with you're hands before you go out let it sit a minute don't light it right away I do agree with you commonsense needs to be used when you fire up my friend actually got his hand cought , on fire when he lit it and actually just looked at it he was so shocked he didn't know what to do I had to take the hand warmer off him and put away and not let him touch it for a few hours he filled it so much that he spelled out over his hands
on Tue Dec 04, 2018 9:06 pm
Try warming the zippo body over an oil lamp. Let it sit for a few minutes with the element and lid on, then try to light it.

Permissions in this forum:
You
cannot
reply to topics in this forum